---
What kind of property is this best for? Smaller properties or newer buildings that have yet to be fully broken in. Basically, for general repairs that you already expect.
Who is it for and how many days are included?When you call, we come within 1 to 3 days. Alternatively, you can also commit to having us at your property one day a week. Ultimately, we tailor our availability to best match your needs.
---
What kind of property is this best for?Our most popular choice, ideal for buildings that have been around for 5-10 years and require semi-regular upkeep to keep things running smooth.
Who is it for and how many days are included?Ideal for those requiring services 2 to 4 days per week. You will select days of the week where you want us at your properties and we will rectify any maintenance issues you may have.
---
What kind of property is this best for?Older buildings that require lots of work and maintenance, particularly those that have heavy foot traffic requiring high upkeep.
Who is it for and how many days are included?For properties that require our services 5 days a week at a minimum of 40 hours per week. With this package, we offer a 24/7 on-call option for any emergencies that may occur.
Let us know more about your property and we'll connect on how we can provide the perfect solution.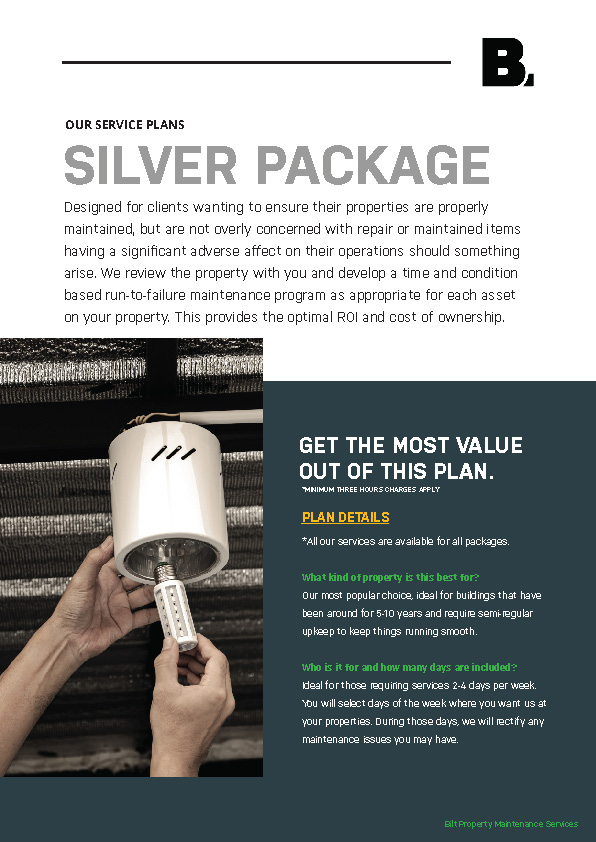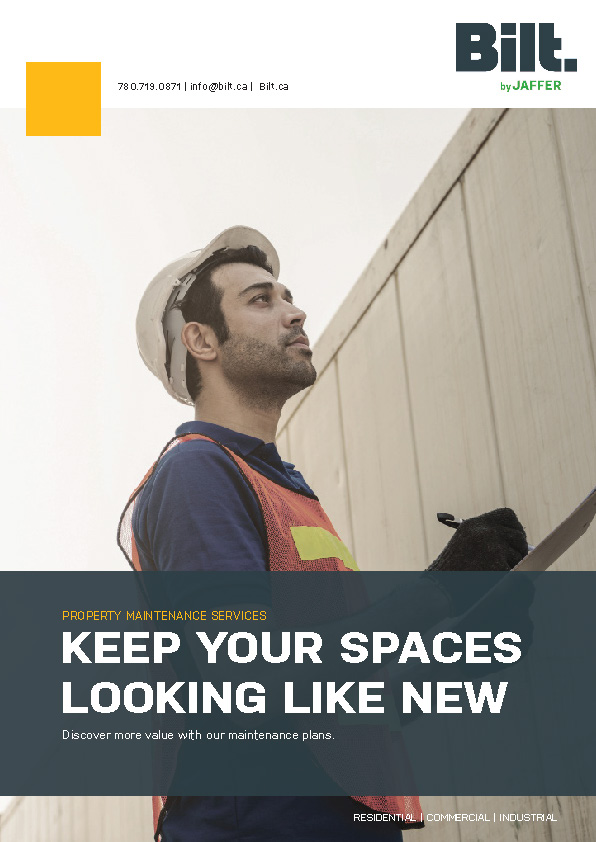 Find a property maintenance service plan to suit your needs
Owning a property means having to spend time on upkeep to keep things running smoothly. We offer three different property maintenance service packages to suit your business needs and do the hard work for you. Whether you own a small to mid-size residential building, or an array of commercial properties, our team of experts can help you with ensuring your spaces are looking and functioning the way they should.
From electrical work, cleaning, or even preventative maintenance, we provide quality services to keep your spaces in tip top shape.
Our Property Maintenance Services
We handle our work with professionalism and care for all our clients including, but not limited to:
Leasehold improvements and repairs

Electrical & data cable maintenance
Building envelop maintenance (windows, doors, cladding/stucco, roof, etc)

Parking lot cleaning & maintenance
Need Some Quick Work Done? Try Out Our System For Yourself
Our computerized maintenance management system (CMMS) allows our team to manage all our maintenance activities in one place. That includes being able to plan, track, measure, and optimize everything from work orders to inventory and reporting. 
If you have a project you'd like our insights or a quote, try it out for yourself below! (courtesy of Fiix)